Your Gamble In Untamed Online Pokies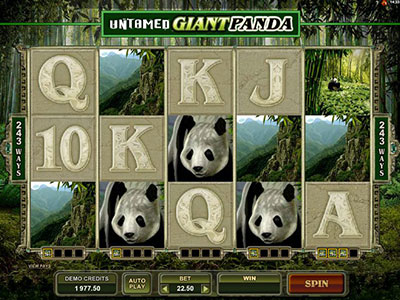 Many Microgaming online pokies offer an optional gamble feature. In the Untamed series of pokies this feature is called Your Gamble and has been given a makeover. This article briefly describes the standard Microgaming gamble feature and explains how Your Gamble offers greater flexibility.
The standard Microgaming gamble feature can be activated after any winning spin. You then stake the entire payout from the winning spin. You can be more conservative and opt for guessing the colour of the next card. A correct guess results in the stake being doubled. A wrong guess results in the forfeiture of the stake. You could opt for guessing the suit of the next card. A correct guess quadruples payout and a wrong guess nixes it.
In 2012 Microgaming launched the first online pokie in its Untamed series titled Bengal Tiger. It incorporated the new gamble feature called Your Gamble. Your Gamble has been included in every Untamed online pokie like Giant Panda, Wolf Pack and Crowned Eagle. Your Gamble can also be optionally activated after any winning spin. The feature screen describes the rules on the left side, locates the operating buttons along the bottom and leaves the central area for the playing arena.
The Bet cell initially indicates the amount of the payout. One of the options available to you is to collect the payout. You exit the Your Gamble feature and are ready for the next spin. You can execute the Your Gamble feature with the full payout staked. Or you can click the Bank button. The staked amount in the Bet cell is reduced to half. The other half gets added to your balance. When you now execute the Your Gamble feature you are staking only half your original win.
This feature has been named Your Gamble by Microgaming because you can set the win target up to 20 times the bet amount. You can increase the multiplier by clicking the Plus button and decrease it by clicking the Minus button. When the multiplier is set to 20 then the circle is divided into 20 sectors. 19 of them will be in red and one will be in green. Decreasing the multiplier will reduce the red area and increase the green one. After you set the multiplier you click the Spin button. The pointer rotates around the circle. If it stops on the red area you lose the bet amount. If it stops on the green area you win the amount shown in the Gamble To Win cell, which is based on the multiplier. You can repeat Your Gamble till the limit is reached.
Recent Online Casino Australian Articles