Visa And MasterCard Credit Card Payment Option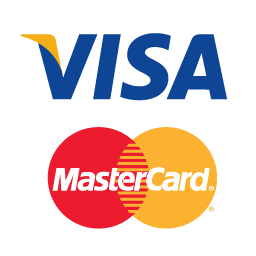 Credit cards were the earliest payment options that did not involve cash or the commercial banking system. And credit cards from Visa and MasterCard are the most reputed world over, including in Australia. MasterCard was launched in 1966 and Visa in 1975. These credit cards have been used for making payments at land outlets for decades and when online payment systems were introduced these cards were at the forefront. When online casinos were launched around 1996, MasterCard and Visa credit cards were the only options around. It will be difficult if not impossible to find an Australian online casino that does not support these credit cards.
How to use Visa and MasterCard casino banking option
If you have selected a credit card from Visa or MasterCard as your payment option, then you have to register your card with the banking section of the online casino before making your first deposit. You have to select the Deposit option of the banking section and then the particular credit card. You will be required to enter the credit card number and other details in the fields and save the information. When you want to make a deposit, you again select your credit card as before, enter the deposit amount, enter your CVC number and click to complete the transaction.
Most Australian online casinos will allow you to make withdrawals to your Visa or MasterCard credit card. But it is better to get this confirmed from customer support before registering your card. In order to make a withdrawal to your credit card, you must have made the deposits using it. Before making your first credit card withdrawal, ensure that you have sent documents for identity proof and address proof. For withdrawing your winnings to your credit card you access the Withdrawal option of the banking section of the online casino. There you select your credit card and enter the amount you want to withdraw.
Pros of using Visa and MasterCard casino banking option
Credit cards are used by most Australians for offline and other online purchases. They are familiar and comfortable with using credit cards. Therefore it makes sense to use them at online casinos as well rather than register for something new.
Visa and MasterCard are global operators whose reputation and integrity is established, so you will be in safe hands.
Since almost all Australian online casinos accept these credit cards, this payment option will work for all your online gambling needs.
Almost all Australian online casinos do not charge for deposits and withdrawals through Visa and MasterCard credit cards, so these are a no cost payment option. But first confirm with your online casino that there is no charge, because a few do levy fees.
Deposits are credited instantly, so you can start wagering immediately.
Visa and MasterCard credit cards award loyalty points for usage, which can be redeemed in a number of ways.
Cons of using Visa and MasterCard casino banking option
Some issuing banks may classify deposits made by the credit cards at online casinos as cash advances. Then the deposit will be treated as cash withdrawals and be subject a number of costs. You will need to check this out with your issuing bank.
Some Australian online casinos do not remit withdrawals to credit cards but send the winnings by check. In this case it may be a couple of weeks before you have the money in your account.
Withdrawals to credit cards take a few days to reflect in your credit card account even though the transfer is electronic due to processing at the credit card end.
When you use credit cards for depositing at online casinos you are playing with borrowed funds. This easy availability of borrowed funds may tempt some players to wager more than they can afford to. They feel that they will be able to win the amount by the time the credit card bill falls due.
Tips about using Visa and MasterCard casino banking option
When you register a Visa or MasterCard credit card at an online casino it has to be your own. Do not register a credit card that is in your spouse's name or in the name of some other family member. The online casino will match the name of the player with the name on the credit card, and if it does not tally then the card will be rejected.
MasterCard and Visa may impose minimum and maximum limits per deposit and withdrawal transaction, and these may be different from the limits imposed by the online casino. For minimum limits the higher of the two will apply and for maximum limits the lower of the two will apply.
If you are wagering at many online casinos then your credit card details will have to be given to each one of them and will be stored on their servers. All the online casinos that we have recommended take all possible precautions to ensure that their servers are secure, so as such you have nothing to worry about. But some players have expressed concerns about this and if you are uncomfortable with this situation then there are other options available.
Some players do not want to use credit cards because they are uncomfortable wagering with money taken on credit. We would like to inform that both Visa and MasterCard offer debit cards as well, which are prevalent in Australia. But fewer online casinos support the debit card option. And many of these online casinos do not support withdrawals to debit cards. So you have to balance your concerns and take an appropriate decision.