Guide to Bonuses at Online Casinos & 2022 Best Bonus Offers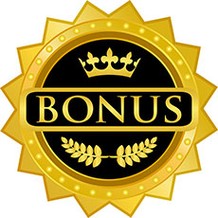 All our recommended sites are real money online casinos. You can deposit your own funds in the real money online casino account. You can wager on the casino games offered using your funds that you have deposited. You can withdraw your winnings and unutilised deposits from real money online casinos. In contrast you have free play online casinos where you cannot make deposits or withdrawals, but can play with dummy funds provided by the casinos. You can play for free at real money online casinos if you so desire, but you cannot play with real money at free play online casinos.
Benefits of Online Casino Bonuses
By claiming casino bonuses you can increase your bankroll and play for longer periods
Free spins, free play and no deposit bonuses allow you to play free and keep winnings
You can continue to receive bonuses even after your first deposit at most casino sites
Best Australian Bonus Offers
Casino Bonus FAQ
What are online casino bonuses and how do they work?
An online casino bonus is free money given to you for wagering by the online casino usually when you meet one or more eligibility requirements. There are various eligibility requirements for different types of bonuses such as signing up at the casino, making a deposit and winning a prize in a promotion. A bonus is free wagering money in the sense that the amount of the bonus does not come from your funds. That the bonus is to be used for wagering is a very important condition. You simply cannot cash out the bonus amount and take it home. You have to use it for wagering as prescribed in the bonus terms. This is discussed in detail in the next section.
Most bonuses offered at online casinos are non-redeemable. After you have completed the wagering requirements if the bonus amount is available in your bonus account it is taken away by the online casino leaving only the winnings from wagering the bonus. You can withdraw the winnings up to a specified amount and the excess winnings will also be removed by the casino. If the bonus is redeemable then you can cash out the bonus and allowable winnings after completing the wagering requirements.
Wagering requirements at online casinos and how these work
Online casinos give bonuses because they want to make sure that you will wager there for a fair period of time. They do this by specifying wagering requirements. This is best understood through an example. Suppose a no deposit bonus of AU$20 has a wagering requirement of 40 times. You have to wager AU$800 in order to meet this requirement. You meet this from the amounts that you win. When you bet your bonus balance is reduced and if you win your bonus balance is increased. You have to manage to win enough so that you can place bets in total amounting to AU$800.
If your bonus balance becomes nil before you can place wagers amounting to AU$800, then that is the end of your bonus and you cannot cash out anything. Suppose you are left with AU$50 in your bonus balance. If the AU$20 bonus was non-redeemable it will be deducted from your bonus balance. Then if the maximum cashout was limited to the bonus amount, AU$20 will be transferred to your regular account from where it can be withdrawn. The balance AU$10 in you bonus balance will also be removed and this bonus will completely be squared up.
No deposit bonuses and how they work
When you are offered a no deposit bonus you do not have to make a deposit to avail the bonus. There could be other eligibility requirements. The most common of these is that you have to open a real money account at the online casino. As a part of its welcome offer, the online casino could start you with a no deposit bonus. The bonus may automatically be credited to your bonus balance or you may have to redeem the bonus code. The objective of this bonus is to allow you to get a feel of real money wagering at the online casino. If you have winnings after meeting the wagering requirement, you can cash them but will be required to make a deposit to demonstrate your commitment to continue playing at the online casino. Because you do not invest any funds of your own, no deposit bonuses are usually on a smaller scale than deposit bonuses and have larger wagering requirements.
Free spins and free play bonuses and how they work
Many online casinos give players a number of free spins on a specified online pokie as a bonus instead of an amount. The free spins are usually played out at the minimum bet with all paylines enabled, thus fixing the amount bet per spin. Hence the player has a fixed amount as bonus but not the flexibility to wager it as he wants. The free spins are usually given in lieu of the no deposit in the welcome package, as prizes in promotions or on new online pokies in order to popularise them. You may or may not be required to make a deposit in order to claim them.
The winnings from the free spins are usually credited to your bonus account. Once credited to the bonus account the specified wagering requirements will apply. Free play bonuses will specify a number of hands on table games like blackjack at a fixed bet.
Deposit bonuses and how they work
In the case of deposit bonuses, you have to make a deposit in order to claim the bonus. Most deposit bonuses are specified as a percent of the deposit. The other parameters specified are the minimum deposit and maximum bonus. For example, it may be a bonus that is 50% of the deposit subject to a maximum bonus of AU$100. If you deposit AU$100 you will get a bonus of AU$50. If you deposit AU$200 you will get a bonus of AU$100. If you deposit AU$300 you will still get a bonus of AU$100 because that is the upper limit. Sometimes the deposit is specified as a flat amount for a minimum deposit, particularly for high roller bonuses.
The wagering requirements for a deposit bonus are specified as a multiple of the deposit plus bonus. The bonus is 50%. The deposit is AU$100. The wagering requirement is 25 times the deposit and bonus. Then you wager 25x(AU$100+AU$50) or AU$3,750.
Multi-tier welcome bonuses and how they work
Online casinos operate in a competitive industry and in order to entice players they commit bonuses on the first few deposits instead of only on the first deposit. These are referred to as multi-tier welcome bonuses and are quite the norm today. The structure is often as follows, though not necessarily so. The first deposit bonus has a high percent specified but a lower upper limit, for example 100% up to AU$100. The bonuses for the subsequent deposits have a low percent and high upper limits, for example 25% up to AU$200. You will have to make a deposit of AU$800 in order to fully utilise this bonus, which is a tall order for even high rollers.
Another issue is that many online casinos give you a short period of a couple of weeks to utilise the whole of the multi-tier bonus. When you evaluate multi-tier bonuses you have to factor in the deposits you can realistically make.