Australian Beginner's Guide to Online Casinos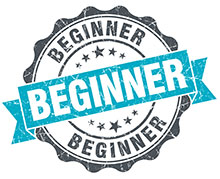 When you start a new activity you need to learn the ropes. You need to be aware of what pitfalls to avoid and how to maximise your benefits. The same is true for online casino gambling. If you try to negotiate this complex activity on your own through trial and error, you will take a very long time to become proficient and may lose quite some money as well. We at Online Casino Australian will help you unravel the mysteries of online casino gambling in the shortest possible time. The Beginners Guide section has been devised by our experts to give you the pointed information you need the most.
Benefits of Online Gambling
There's no need to travel to enjoy playing pokies, blackjack and similar casino games
The payouts percentage (RTP) at online casinos is better due to lower overhead costs
You can enjoy playing whenever and wherever you are located. It's far more convenient!
Featured Online Casino Guides
Online Gambling FAQ For Beginners
How do I know I won't get cheated where I play?
The simplest answer to the question is that pick an online casino recommended by us. You will not get cheated at any of those. But you are unlikely to be satisfied with this answer so we list below some pointers that you should look at.
Make sure that the online casino is licensed by any of the regulatory authorities that we have recommended. These authorities check into the antecedents of the online casino owners and operators and issue the license only if they pass the background check. These authorities also make sure that the online casinos are being operated in a proper manner. The license particulars are given on the home page and the license should have current validity. Make sure that the software of the online casino has been tested by an independent expert agency. Online casinos that have nothing to hide post these certificates on their web sites.
What are some things that make one casino better than another?
There are two aspects to this question. The first aspect has to do with personal preferences. Both Playtech and Microgaming are equally good software providers and both offer excellent branded pokies. But if you are a Marvel hero fan then you would like Playtech better. One online casino offers prizes in a promotion based on a lucky draw. The other one has promotions in which prizes are given to players that wager more. If you have a small bankroll you would prefer a casino with the first type of promotion.
On an absolute level, a casino that gives more options to players is better. All the online casinos we recommend offer no download desktop platforms. Some offer download platforms as well, but others do not. Even though you may not want to play on the download platform right now, it is better to have the option, other aspects being equal.
Should I pick an online casino based on the size of their bonus?
This question needs to be qualified, because 'size of the bonus' is ambiguous. A deposit bonus has two main components – the bonus percent and the upper limit. Option A may be 100% of the deposit with a cap of AU$300. Option B may be 150% of the deposit with a cap of AU$150. If the maximum deposit you are able to make is AU$100, then you will get a bonus of AU$100 under Option A and a bonus of AU$150 under option B. Therefore the higher upper limit in Option A is no use to you. However, if you are able to make a deposit of AU$300, then you will get a bonus of AU$300 under Option A and a bonus of AU$150 under option B. Therefore the higher percent bonus in Option B is no use to you.
Any bonus offer has to be evaluated in conjunction with the deposit that you want to make.
Is it helpful to browse forums and message boards to find who's good?
There are forums and message boards that are good and provide authentic and useful information. But at the same time there are those whose integrity is questionable. The information provided could be purposely biased or falsely created just to make up volume. It is not easy to differentiate between the good from the bad in this regard. Also some players post at these sites because they have an axe to grind. Their bonuses may have been genuinely withheld and now they want to give the online casino a bad name.
You should browse forums and message boards but should not immediately act on anything posted. If the same issue has independently cropped up on several forums, then maybe it is genuine. Do not go with isolated posts. The best thing to do is check with us and our experts will evaluate the issue and give you a response that you can trust.
Managing Your Bankroll at Online Casinos
In this article we take the opportunity to discuss setting and managing bankrolls. In simpler terms this means that players must know how much they should spend on online gambling and when they should stop. We strongly believe that online gambling is an entertainment activity and big wins are bonus funds.
How much money should you spend on online gambling is an individual issue. Players who earn more may spend larger amounts and players who have other entertainment priorities may spend smaller amounts. Therefore we cannot name a figure, but will offer general guidelines. Start with your take home monthly income. Deduct the essential monthly expenses. Make a provision towards the larger one-time expenses and savings and deduct that as well. What is left is the total amount that you can spend on all forms of entertainment. Decide how much of that you want to spend on online casino gambling. The figure you arrive at is your monthly bankroll.
Then break the bankroll into sessions. If you intend to play only on weekends then you could divide your bankroll into eight days. If you will play every day then the bankroll could be divided by 30. You can fine tune this process as per your exact requirement. Time management is integral to bankroll management. So fix up a time frame for each session keeping in mind your other commitments.
Based on the time you have allotted for the session estimate the number of spins on slots or the number of deals in card games that you should be able to play. In the beginning your estimates could be way out. But after a few sessions you will be able to make reasonably good guesses. Divide your bankroll by this number to get your bet per spin or deal. You can experiment with increasing or decreasing the bet size. The estimated bet size should be an average guideline.
The final paragraph deals with when to stop. You stop whenever your bankroll for the session is over or the time for the session is over, whichever happens first. There should be no compromise on this. If the session ends because of the time limit, what do you do with the left over bankroll? If the amount is small then add it to the next session's bankroll. If it is middle sized then splurge a bit – take your family out to dinner. If you have hit big time then put the money aside for stuff like paying of loans or buying assets.