Guide to Mobile Online Casinos for Australian Players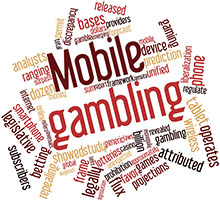 Mobile gambling is the fastest growing gambling sector. Online casinos gave a boost to gambling by eliminating the need for players to travel to land casinos. Similarly mobile casinos have eliminated the need of gambling from fixed places like home on desktops or laptops. You can now carry your casino in your pocket and wager on the move. Two developments have been crucial for mobile gaming becoming popular. The first is the development of mobile phone technology that can process at speed the amount of audio visual information required for playing casino games, particularly online pokies. The second is the penetration of mobile phones across all geographic and demographic sectors. No one buys a mobile phone for playing casino games. But having bought a smartphone for whatever purpose, Australians can use it for casino gambling.
There are new operators who only offer mobile gaming. But we recommend those who have a base in desktop gaming and have gone into mobile gaming as an extension. These are time tested operators and offer you the option of both forms of remote gaming under a single registration. In this section we explain some preliminary concepts about mobile gambling and how different mobile devices can be used for this activity.
Benefits of Mobile Online Casinos
Convenient and accessible way of playing without the need for a PC or laptop to gamble
Great selection of games that work flawlessly on virtually all mobile phones & tablets
Nicer way to interact with games by being able to touch the screen like in land casinos
Mobile & Tablet Online Casino FAQ
Are mobile online casino games as good as those on desktop?
The honest answer to this question is that the mobile casino games are almost as good as those on desktops, but not exactly as good. You can play the same online pokies or table games on both mobile devices and desktops, so what is the difference? There are some functionalities that are present is the desktop versions of the games but not in the mobile versions. An example is Auto Play in online pokies. There are fewer customization options in mobile pokies. But the core features are present. In mobile pokies you will have the same free spins and bonus features and the audio visual animation effects as in the desktop versions.
The facilities that are left out contribute only marginally to the gaming experience but consume resources that are crucial in the context of mobile phone usage. You will find similar differences in all other applications that are common to mobile and desktop devices.
Are mobile casinos supported on all mobile devices?
Here you have to classify mobile devices in two ways. The first is according to its hardware capabilities and the other is according to its operating system.
If you are one of the rare Australians who are using a mobile device that does not classify as a smartphone, then you can forget about mobile gaming. Mobile casino platforms will not work on such phones. If you are using smartphones and tablets that have been launched in the last four years you should not have any problem whatsoever. The earliest smartphones can be an iffy area. The mobile casino games may work but not smoothly. In case of doubt it is best to give your model details to the mobile casino and they will let you know.
All the mobile casinos that we have recommended are compatible with devices on the iOS and Android operating systems. You can download apps or play in the browser of your mobile device. Almost all of them will be compatible with devices on Windows and Blackberry as well.
Is it secure for me to play on my phone or tablet?
It is absolutely secure for you to play on your smartphones or tablets. You probably book tickets through your mobile device and pay for various goods and services. You can even transfer funds from your account using a smartphone without giving security a second thought. The same security protocols are employed at mobile casinos so you need not worry. If you still have concerns, there is a way out. You can load your mobile casino account and withdraw funds from your desktop as well.
If your concerns are related to your private information stored on the mobile casino servers, we assure you there is no problem. Since our recommended operators offer a common account on desktop and mobile, all the information is on the same server and is protected by firewalls and other methods available.
What happens if I don't have a reliable Internet connection?
Mobile gaming requires a reliable Internet connection otherwise the gaming experience will be of a lower quality. Let us look at what kind of problems that you may face. If your Internet connection is not constant and it disappears even momentarily, you could be cut off from the mobile casino and the game you are playing. The general policy of mobile casinos in this eventuality is to treat the bet as null and void. But there is fine print involved and you should check that out.
If your Internet speed is low then there could be buffering problems or the game screen could freeze. This will be particularly true of mobile video pokies. Simpler games like blackjack may function properly at lower speeds. Most Australians would be using a 3G network or higher and these should generally be acceptable. If you are still on 2G then you could face problems.
Are there any other things to consider when playing on mobile phones?
You could engage in mobile gaming from a public place in close proximity of other people, like travelling on a bus. When you enter your log in details or payment transfer information, there could be someone peeping over your shoulder. While the chances of this leading to a hacking problem are low, it is better to be safe than sorry. Make sure that you adequately screen your mobile device during these operations.
You can play on your mobile phone from anywhere. You are five minutes early for an appointment, and can log in your mobile casino for a few spins. The opportunity for gambling more than you should is greater in the case of mobile gaming. So you need to follow responsible gambling practices more strictly.
Obviously, there are issues common to desktop and mobile gaming. You should choose a reputed and licensed mobile casino operator. Mobile gaming platforms at our recommended online casinos are safe and fair.
Mobile Apps Versus HTML5 Casino Games
Mobile devices based on iOS and Android operating systems are most common. They allow you to download the casino apps from their respective stores or play in the browsers of the mobile devices. The games offered are identical and therefore the choice is a personal preference. But before we go into that, we would briefly acquaint you with the development of mobile gaming so that you can understand the terms better.
Real money wagering mobile games surfaced in about 2004 when leading software providers converted some of their best titles for mobile applications using HTML4 and Java. Though roulette and blackjack worked well, the online pokies had some functionalities removed. Mobile gaming came into its own with the development of HTML5 and smartphones. HTML5 was a common code compatible with all mobile operating systems. The games developed on HTML5 could work on iPhones, Android phones and others.
Then leading casino gaming software providers started developing games in separate codes for iOS and Android devices. These integrated better with the specific mobile operating systems and led to a higher quality of gaming. So you had casino apps for iPhones and iPads that could be downloaded from Apple Store and separate apps for Android devices that could be downloaded from Google Play. As HTML5 evolved, the games developed on the common code were as good as the special apps. So you have both options available, at least for iOS and Android devices.
If you want to play on apps you will have to download it from the respective store. These are free to download apps, but you might be required to sign up at Apple Store or Google Play. Then the mobile casino can be reached simply by tapping the app icon, which is a quicker option. The disadvantage is that the app will consume storage space, which will increase as more games are added. Also Android mobile casino apps will not work on Apple iPhones and vice versa.
In order to access the HTML5 mobile phone casino you have to go through the mobile search engine and play the games in your browser. There is no downloading is required so all the disadvantages of download apps are eliminated. But it can take a bit more time to reach the mobile phone casino. You can bookmark the site and reduce the time. Also, there will not be any casino app icon on your smartphone screen so your mobile gaming remains a private activity.