Understanding Microgaming Poker Pursuit Online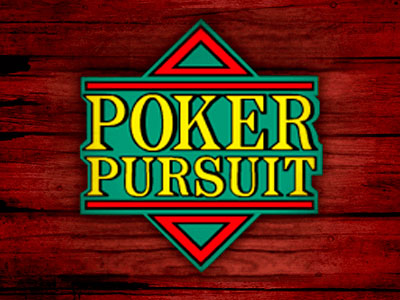 Most Australian online casino players wager on pokies, but there are some that prefer other games as well. Therefore Microgaming offers a wide selection of casino games at its online casinos like Royal Vegas, Ruby Fortune and Casino Mate. Poker Pursuit is a simple game based on poker hand rankings that has an easy to follow strategy.
You begin as usual by wagering the ante bet, in which you can stake one coin of a denomination from the given range. You then click the Deal button and the flop consisting of three cards will be dealt on the table. If you think that you hold favourable cards, you can raise by increasing your bet to 2 coins. Otherwise you have to call and continue playing with the same stake. When you have made your choice the turn card will be dealt on the table. The turn card is the fourth card of a poker hand. Again you can choose from the same two options. Before the river or fifth card is dealt you may have a bet of 1, 2 or 3 coins. If you call both times then your bet will remain at 1 coin. If you call once and raise once then your bet will be 2 coins. If you raise both times then then you will have the maximum bet of 3 coins. Finally the river card will be dealt to complete the poker hand.
You need to have a poker hand ranked at tens or better or higher in order to receive a payout. Otherwise you lose the total amount bet. The payout for the different poker hands are as follows: tens or better – 2 to 1, two pairs – 3 to 1, three of a kind – 4 to 1, straight – 6 to 1, flush – 9 to 1, full house – 12 to 1, four of a kind – 50 to 1, straight flush – 200 to 1 and royal flush 1000 to 1. Actually the screen shows the payout tables for the different number of coins so that you can simply read out the amount won.
The Microgaming Poker Pursuit optimum strategy is explained below. It is obvious that you should raise whenever you already have a winning hand. You should raise on the flop only if you have three cards to a straight flush or royal flush. You can take more risks after the turn because only one more card is needed. You should raise on four cards to a flush, open-ended straight, straight flush or royal flush.
Recent Online Casino Australian Articles