The Playtech Spamalot Branded Online Pokie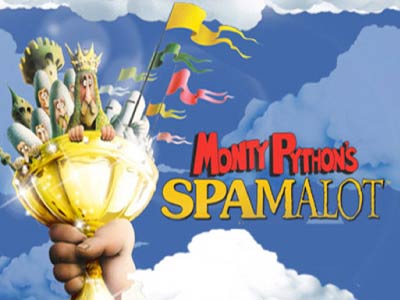 There are plenty of pokies based on the legend of King Arthur, but if you want something completely different then head for Monty Python's Spamalot. It is from the portfolio of Playtech and is live at online casinos like Omni Casino and Mansion Casino. Monty Python's Spamalot is a branded video slot based on the 2005 Broadway show. It contains graphics and audio from musical.
Spamalot, as its name suggests, was a spoof on King Arthur's Camelot. So you have the characters from King Arthur's Round Table depicted in a comic and almost bumbling manner. The cast includes King Arthur, Sir Lancelot, Sir Robin, Sir Galahad and the Lady of the Lake. The win animations are shamelessly irreverent. Sir Lancelot dances in drag and the Lady of the Lake has her blouse plucked off. The low paying symbols are the usual playing card icons. The wild, bonus and scatter logos are the special symbols.
When the bonus symbol lands on reels 1 and 5, you get to play one of four bonus games in sequence. In Storm the Castle you pick a spot that you think will be safe. The French throw a cow at you from the castle. If they miss, you win a bonus and pick again. If they hit, the bonus round is over. In None Shall Pass you get four turns to attack a knight. If you dismember him on the first attempt then you win a bonus. With each additional try that you need, the bonus amount becomes smaller. In The Knights Who Say Ni you pick a shrub and receive a bonus from the knights. If the bonus is not to your liking then you can try again, but you lose the earlier award. The Killer Rabbit perhaps has reference to the apocryphal Halloween serial killer. You have to knock out the rabbit with a rock. If you succeed then you will be rewarded with a bonus, otherwise you return empty handed.
Monty Python's Spamalot has a two tier progressive jackpot. The path is through a free spins round that is triggered by landing three scatter symbols on the reels. You are awarded 10 free spins. In these if you manage to collect five Holy Grail symbols during the free spins then you enter the six-level Holy Grail Bonus. You have then to make it to the top level of the feature where you will win one of two progressive jackpots. The Holy Grail Jackpot is the big one, which is at over AU$1 million right now. The Not So Holy Grail Jackpot is much smaller.
Recent Online Casino Australian Articles