The Great Galaxy Grab Space Odyssey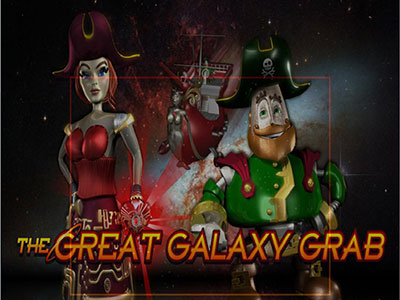 Online pokies can take you where only your mind has been before. One such video pokie is The Great Galaxy Grab. It is space odyssey, not with lifeless satellites and asteroids, but with bars, casinos and shopping malls. You can play The Great Galaxy Grab at online casinos like Royal Vegas, Spin Palace and All Slots.
The online pokie begins with a fascinating story. Captain Bronzebeard has procured a new space vehicle, Stella. His spending too much time with Stella, enrages his wife Steel Scarlet. In retaliation, Scarlet steals Stella's heart and takes off into outer space. The captain, accompanied by Deckhand Dan, Trusty Rusty and Dozer, chase Stella across the galactic hot spots each of which becomes the venue for a bonus game. The high paying symbols are the characters in the story and the low paying symbols are the space venues. Soak in the magnificent 3D artwork before you spin the reels.
Three or more Steel Scarlet symbols trigger the Space Chase bonus game. Each time the feature is triggered you play the next bonus game in sequence. You have to complete all six bonus games to find out if Captain Bronzebeard finds his wife Scarlet and if s forgives him. The first stop is the Astrobank. You obviously need money to spend in the entertainment spots. The currency is Astro Doubloons. You pick six from those that are displayed on the screen to win random bonus credits for each. You also need to fill up your tank for the long space journey. So the next stop is the Gas Station. You have to match four of the same fuel logos in order to reveal a hidden multiplier.
Now comes the spending part of the story, but you actually win money at each stop. It is difficult to enjoy anything on an empty stomach so you head to the Diner. You choose one of the three items from the menu. If you are not happy with the bonus credits awarded, you can change your order twice. At the Saloon you play a hi-lo card game for bonus multipliers and then complete a poker hand for bonus credits. Next stop is the Casino for more gambling. You spin the Big Wheel to win bonus multipliers and re-spins. The Space Chase ends at the Mall. You buy goods and are paid bonuses for your selection.
Microgaming has used the concept of the bonus trail in some other online pokies like Jason and Avalon II. And if you become a space addict then head to the strip club Planet Exotica.
Recent Online Casino Australian Articles