Take The Microgaming Double Exposure Blackjack Challenge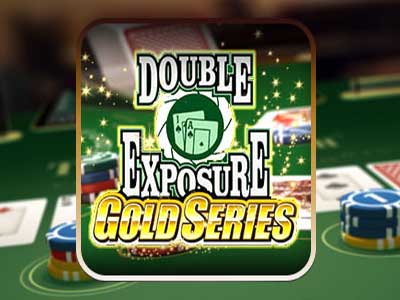 Double Exposure is an online blackjack variant that requires players to think out of the box. It derives its name from the fact that both the dealer's first cards are dealt face up. Double Exposure will be found under the Blackjack games at most Australian online casinos. This article is based on Microgaming Double Exposure, which can be played at online casinos like 32Red, Royal Vegas and Casino Mate.
Because both the dealer's cards are dealt face up, you have more information before you make your first move. This changes and narrows down the choices available to you. In normal online blackjack variants you will never hit on a hand value of 19, even if the dealer has a ten as the face up card. But in Double Exposure you can see the second card as well. If that is also a ten the dealer has a hand value of 20. So, even with a hand value of 19 you are compelled to hit hoping to get the elusive deuce. Or take the following example. If the exposed two cards of the dealer give a hard 17, you know that the dealer cannot draw another card. There is no uncertainty in your target and this makes your options clearer.
The advantage given to the player by exposing both cards needs to be compensated. Otherwise the average return will be more than 100% and the online casino can be cleaned out. The main compensation is achieved by reducing the payout for blackjack to even money in Double Exposure Blackjack instead of the 3 to 2 payout in normal online blackjack games. The dealer wins all ties except blackjack in Double Exposure. In the regular games all ties push, which means that the player gets his wager back. The other rules of the game can be accessed on the screen.
Microgaming Double Exposure Blackjack is a superior game because of the additional functionalities offered. It is from the Microgaming Gold Series and is set on an elegant casino table. The biggest advantage of Microgaming Double Exposure Blackjack is that the strategy card is included. Online blackjack games need to be played using optimum strategy in order to maximise returns. In this Microgaming variant you can consult the strategy card before every move. The Auto Play feature allows you to play a set number of deals using optimum strategy without manual intervention.
Recent Online Casino Australian Articles