Online Video Poker Winning Tips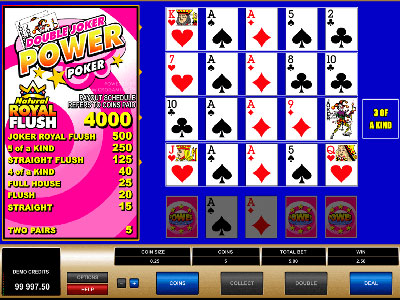 Video poker games at Australian online casinos offer average returns around 99%. But to achieve these returns you need to master the optimum video poker strategy. The detailed strategies are beyond the scope of the article. However the tips explained below will help you prevent making basic mistakes.
In online video poker games you can bet from 1 to 5 coins. The first tip that is inviolable is to always bet 5 coins. A separate payout table is displayed for each number of coins. The payout for royal flush with five coins is a jackpot payout. If you wager less than five coins you will not be eligible for this payout. If you have a tight bankroll then you should reduce the coin denomination but not the number of coins.
Most online video poker variants at Australian online casinos will have an average return between 98.5% and 99.5%. Fortunately, the more popular video poker games like Jacks or Better, Deuces Wild and Joker Poker fall in this category. But you will come across video poker games that are interestingly structured or offer some apparent advantage. But the payout tables are such that the average returns are low. Some examples are Louisiana Double Poker and Pyramid Poker and these should be avoided.
As mentioned earlier, you have to play video poker games using optimum strategy. This essentially means that you hold on to those cards from your dealt hand that give you the best chance of winning. While you are mastering the optimum strategy you should keep in mind the following simple video poker tips. All Australian online casinos allow you to play video poker for free. You can practice your skills as much as you want in this mode. When playing with real money, you should refer to the strategy while deciding which cards to hold.
A bird in the hand is worth two in the bush. This generally holds true for video poker. You should never break a winning combination in the hope of getting a higher ranked hand. But there is an exception to this rule based on sound mathematical probability. You are dealt four cards to a royal flush and the fifth card makes a paying poker hand other than a royal flush or a straight flush. You should discard the fifth card in the hope of getting a royal flush. This is because the jackpot payout for the royal flush makes the risk worth it.
Recent Online Casino Australian Articles