Kong The 8th Wonder Online Pokie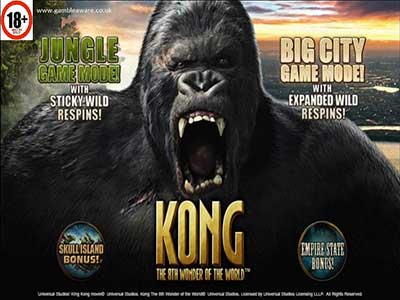 King Kong, the ape from Skull Island, has captivated story tellers since he was first launched in 1933. Therefore it is hardly surprising that there are several online pokies based on King Kong. The best of these is Kong: The 8th Wonder of the World from Playtech. This is largely due to Kong being a branded online pokie developed under license from Universal Studios and based on the King Kong 360 3-D exhibit in their theme park and their 2005 award winning movie. The exhibit has been created by triple Oscar winner Peter Jackson and is said to provide the world's largest and most intense 3-D experience. This online pokie is live at Playtech online casinos like Mansion Casino and Omni Casino.
Kong online pokie features all the main characters from the movie as symbols on the reels. King Kong fans will have no problem in recognising them. The fans will also love the clips from the movie played in the introduction, win animations and during bonus features. The online pokie describes the story as an epic clash between two worlds – the wild jungle and the sophisticated city. In keeping with this clash, the online pokie is played in two modes. In the Jungle Mode the reels are set in Skull Island. The characters are shown as they were in this part of the story. The playing card icons are crafted from stone. In the Big City Mode the reels are set in New York. The characters take on their sophisticated avatars and the playing card icons are designed as neon lights. The game seamlessly moves from one mode to the other through bonus features as described below. In both modes King Kong is the wild symbol and awards the highest line payouts. Three or more scattered Kong symbols award three re-spins with attractive benefits.
The online pokie loads in the Jungle Mode and you keep spinning the reels in that mode until you hit three or more game logos. This triggers the Skull Island Bonus. You are taken to a map of Skull Island on the second screen. You keep picking locations until you reveal three of the same dinosaurs or King Kong. Your bonus award depends on the creature matched. The game will shift to the Big City Mode. Three game logos will now trigger the City Tower Bonus. The second screen displays King Kong on top of the tower being attacked by planes. You pick three planes for King Kong to smash and win bonus credits. The game then returns you to the Jungle Mode.
Recent Online Casino Australian Articles