Deuces Wild Variant From Betsoft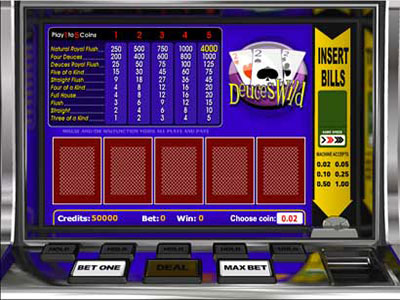 Deuces Wild is an online video poker variant that is played with the four deuces acting as cards. Betsoft is a popular games supplier to Australian online casinos. It offers other video poker variants that essentially draw from Deuces Wild video poker. One of them is Deuces and Jokers Poker. This video poker is played with a deck of 53 cards, the additional card being a joker. Therefore the game has five wild cards.
The Deuces and Jokers video poker table has some interesting features. There is no jackpot payout for the top ranked hand for a wager of five coins. The payouts in all cases are simple multiples of the number of coins wagered. So there is no strategic advantage in playing with five coins. The highest ranking hand is five wilds. This is made up from the four deuces and the joker. The payout for this is 2000 coins per coin wagered. You will not find this high a payout in any online video poker variant. As a result, Deuces and Jokers video poker is bound to have high variance.
The payouts for the other hand rankings are as follows: natural royal flush 800 to 1, natural four deuces (without the use of the joker) 25 to 1, wild royal flush 12 to 1, five of a kind 9 to 1, straight flush 6 to 1, four of a kind 3 to 1, full house 3 to 1, flush 3 to 1, straight 2 to 1 and three of a kind 1 to 1. Lowe ranked hands do not pay. The average return with this payout table and assuming that optimum video poker strategy is utilised is 99.07%.
In Betsoft Deuces and Jokers you first select the coin size from $0.02 to $1.00. Then you select the number of coins that you want to wager. When you click the Deal button five cards will be dealt face up in the playing area. You click on the cards you want to hold. When you next click the Deal button the remaining cards are replaced. The final hand is compared with the payout table and payouts awarded if there is a winning hand. The game can be played in three speeds. You can double your winning through a Double Up Feature. If you activate this feature, you will be dealt one card face up and four cards face down. You have to pick one of the face down cards. If it is higher ranked than the face up card your staked payout will be doubled.
Recent Online Casino Australian Articles