Christmas Themed Online Pokies With A Difference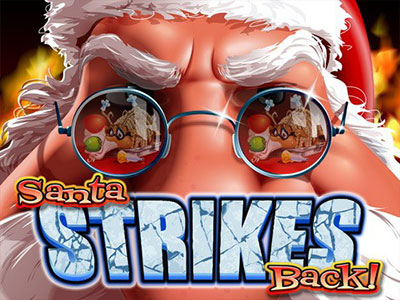 Some years ago Realtime Gaming, the leading games supplier to Australian online casinos, released a series of three online pokies for Christmas. Since then many more Christmas themed online pokies have come, but these three continue to draw traffic at online casinos like Fair Go. The reason is that these online pokies in a sense of dark humour pitted Rudolph the Reindeer against Santa Claud.
The series begins with the online pokie titled Rudolph's Revenge. Rudolph smoking a cigar and brandishing a baseball bat has taken charge. The symbols on the reels show Santa tied up, an elf frozen in ice and a time bomb ticking away. The playing card icons as displayed as packed Christmas gifts. Rudolph is the wild symbol with a 2x multiplier property. It is also the trigger for the progressive jackpot. The bomb activates the free spins feature. You get 7 free spins in which the payouts are multiplied by two plus the number of wild Rudolph symbols on the reels.
This pokie was followed by Santa Strikes Back in which Santa wrests control back from Rudolph. Santa Claus with a sword is the wild symbol and it leads to the progressive jackpot. Rudolph is tied up this time, an elf is performing voodoo on the reindeer and a package of hazardous liquid has arrived for Rudolph. There are two scatter symbols with Santa and Rudolph in a brawl. One of them is winning in each. The victorious Santa symbols trigger the Santa Strikes Back feature. The victorious Rudolph symbols activate the Rudolph's Revenge feature. You will be offered seven free spins in each, but with different benefits.
The Realtime Gaming pokie series ends with Rudolph again on top. The third video pokie is titled Return of the Rudolph. Because of the conflict, Santa's home bears a vandalised appearance, a toy teddy bear is damaged and the playing card symbols have the wrapping torn off. Rudolph in a devilish avatar is the wild symbol. When it appears on the third reel, it expands across all rows and triples payouts. The scatter symbol is a pair of reindeer henchmen. This symbol leads to the progressive jackpot and randomly activates one of three bonus rounds. In the Rudolph's Rampage feature you have to save three elves. Your performance in this task determines the number of free spins from 5 to 50. The Santa Strikes Back feature and the Rudolph's Revenge feature are the same as in the Santa Strikes Back online slot.
Recent Online Casino Australian Articles