Analysing Louisiana Double Online Video Poker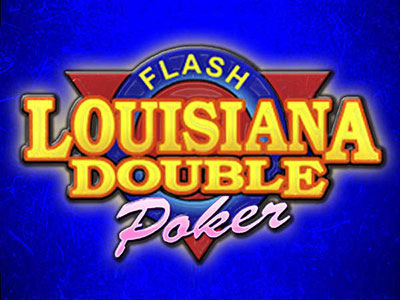 It is important to know which games to play at online casinos, but even more important to know which games to avoid playing. A video poker variant titled Louisiana Double falls in the second category. It is live at online casinos powered by Microgaming like Casino Mate, Royal Vegas and Platinum Play. Louisiana Double video poker is attractive because of an innovative feature, but offers a lower average return to the player than most other online casino games.
Louisiana Double online video poker is played with a deck of 53 cards. The extra card is not a joker, but a Double card. This card gives the game its name. The Double card cannot be used in a poker hand. It is also not a wild card. If you have the Double card in your final hand, then it will double the normal payout of the hand formed by the remaining four cards. Discerning online video poker players will immediately realise that you cannot get doubled payouts for poker hands that need five cards.
A few examples are being presented for those who are new to online video poker and more likely to get attracted to Louisiana Double. If you hold J-J-8-7-2 then you get paid even money for the jacks or better hand. But if you change it to J-J-8-7-D you have jacks or better with the Double card and get paid two times the normal payout. If you hold K-Q-J-10-D you do not get paid anything because K-Q-J-10 is not any poker hand on the payout table. You would be better off trying for A-K-Q-J-10 or K-Q-J-10-9 without doubled payouts. There are only four poker hands from the payout table can be doubled by the Double card. These are jacks or better, two pairs, three of a kind and four of a kind. Therefore the advantage of the Double card is a lot less than it initially seems.
The advantage, however small, is more than offset by the changes made in the payout table. The poker hand rankings are the same as in the Jacks or Better online video poker payout table, but the payouts are different. In Louisiana Double the payouts are more for straight flush and four of a kind and less for royal flush and three of a kind. The net result is a reduction in reduction in average return by 6%, after factoring the advantage of the Double card. Jacks or Better has an average return of 99.5%, whereas Louisiana Double has an average return of only 93.5%.
Recent Online Casino Australian Articles