A Unique Playtech Online Video Poker Game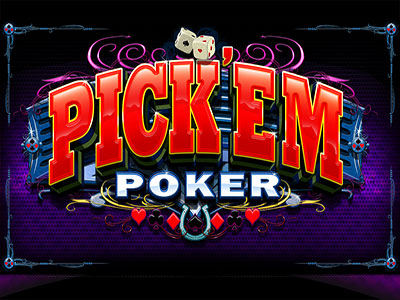 If you want a change from the usual draw poker format of online video poker games you should try a title called Pick 'em Poker. You will find this game at Playtech powered Australian online casinos. Some of the highly recommended ones are Omni Casino and Mansion Casino. In normal online video poker games the decision making involves selecting the cards that you want to replace. In Playtech Pick 'em Poker you have to select one of two stack of cards. The name of the game derives from this. The game play in Pick 'em Poker is simpler but the optimum strategy is more complex.
As are all online video poker variants, Pick 'em Poker is played with a single standard deck. After you place the wager, you will be dealt two cards face up and two stacks of three cards each. You can see only the top card of these stacks. Based on the four cards that are visible, you have to choose one of the two stacks. You have to assess which of the two face up cards of the stacks are more likely to lead to a winning hand. The stack not chosen is discarded. The three cards in the chosen stack and the two single cards make the five card poker hand.
In Playtech Pick 'em Poker you are making a decision with much less information and this is disadvantageous as compared to other online video poker variants like Jacks or Better. In order to compensate for this, the payouts begin with nines or better, which pays 2 to 1. In normal online video poker variants only the payout ratio for royal flush is lower for a wager of less than five coins. But in Pick 'em Poker the payout ratio for the top three hand rankings is lower. Therefore in this video poker game it is all the more important to play with five coins. The top hand rankings pay out as follows with five coins. Four of a kind pays 120 to 1. Straight flush pays at 239.8 to 1. Royal flush pays at 1200 to 1.
Pick 'em Poker is also available in multi-hand format at Playtech online casinos. You can select from 1, 4, 10, 25, 50 and 100 hands. Each hand will be played from a separate single deck. The two single cards and the face up card in the chosen set of three will be replicated across all hands. Only the two hidden cards change in each hand.
Recent Online Casino Australian Articles