4 Seasons For Chinese New Year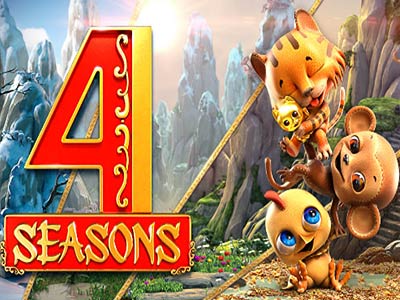 4 Seasons from Betsoft is one of best online pokies based on the Chinese New Year theme. But more than that, the animated artwork is a masterpiece in itself. It is an ideal online pokie for the coming Chinese New Year. You can play 4 Seasons at Australian online casinos like Casino Mate.
Within a year the four seasons come and go. And every year a different animal from the Chinese zodiac takes charge. Both cycles are represented in the Seasonal Wheel of this online pokie. The game loads to a beautiful depiction of one of the four seasons. After 90 spins on the online pokie the Seasonal Wheel takes the background scene to the next season, with the change being depicted in a detailed and realistic manner. Though this feature does not contribute to the payouts, it will retain players on the online pokie.
The Chinese zodiac is represented by its twelve animals that award line payouts. The 3D graphics show the animals as cuddly creatures. 4 Seasons has an innovative math model. All symbols award the same payouts ranging from 10 times the line bet to 50 times the line bet depending on the number of like symbols. Payout multipliers are determined in a number of different ways.
All the twelve Zodiac animals are displayed on the Seasonal Wheel. The animal that is on top of the wheel at a given time is the Golden Animal and gets a multiplier of 10x. The animals on either side are Silver Animals with payout multipliers of 5x. The three animals to the left and right are Bronze Animals with payout multipliers of 2x. After every 30 spins of online pokie, the Seasonal Wheel rotates one step. A new set of animals occupy the Golden, Silver and Bronze positions and are awarded the above multipliers. In 4 Seasons online pokie symbols can appear in blocks. A block with two symbols has a 2x multiplier value, a block with three symbols has a 3x multiplier value, a block with four symbols has a 5x multiplier value and a block with five symbols has a 10x multiplier value.
However, the lucky Golden Cat is the main symbol. It is the wild symbol and it also awards the top line payout. A combination of five symbols on an active payline awards 10,000 times the line bet. The Yin & Yang scatter symbol activates the free spins feature. You can get up to 20 free spins.
Recent Online Casino Australian Articles