Software Providers For Australian Online Casino Gambling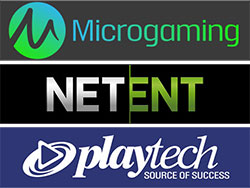 In the context of online casino gambling, casino games are those in which you play against the house. If you win the house pays you and if you lose the house takes your bet. You do not wager with other players as you do in poker cash games. Online tournaments are an exception. All participants pay an entry fee and the winners share the prize pool.
All online casino games require luck. You cannot master skill in a way that you are assured of winning. There are some games that require only luck such as online pokies and others in which skill can increase your expected returns such as blackjack.
Online Casino Software Providers FAQ
Why are there so many casino software providers?
The remote gaming market, consisting of desktop and mobile gambling, is growing rapidly. There are several reasons for this. Internet services are penetrating deeper into remote areas. Smartphones are becoming more accessible. The widespread acceptance of online gambling is encouraging more and more people to take up the activity. So the need for good online gambling services is growing and that is why there are so many casino software providers.
The current trend for online casino operators is to give games from as many software providers as possible. If players get variety at one place, they are less likely to go casino hopping. So casino games developers need not offer entire gaming platforms. They can just create casino games and license them to operators. The ease of operation and need for variety has also resulted in many casino software providers.
Who are the main and most recognized software providers?
As far as the Australian online casino market is concerned the main and most recognised software providers are Microgaming, Playtech and NetEnt. These are among the oldest online casino software providers and therefore the most experienced. They have pushed the frontiers of online gaming from download to instant play to mobile. Some of them are now into commercialising virtual reality gaming and gaming on smart watches. They know the pulse of the online casino player and have been delivering for two decades.
They not only license software to online casino operators but actively create and market their brand image. You will often find them hosting events across all their licensees, especially to promote new games. At the same time these most recognised software providers have been setting the benchmarks for fair and ethical online casino gaming. For example, Microgaming was one of the founders of eCOGRA, which played a pivotal role in convincing players that regulated online gambling was safe and fair.
What are branded casino games and who dominates in making these?
Ever since online video pokies were first introduced they were based on some theme. Branded video pokies are based on 'themes' that are owned by some entity and are under copyright. It could be movies, television shows, video games, board games and the like. The owner and the software provider enter into an agreement for the development of the video pokie. It is a win-win situation for both. For the owner the brand gets publicity in an entirely different medium. For the software provider, the brand draws traffic to the game.
In creating a branded video pokie game, the software provider uses audio visual content from the brand. The most common example is the use of scenes and dialogues from the movie in the win animations. Theme music and logos are other examples. Microgaming, Playtech and NetEnt are in the forefront of branded video pokies. Playtech also offers branded scratch cards.
Which software providers offer exceptional desktop and mobile gaming experiences?
Again, the answer is Microgaming, Playtech and NetEnt. There are two broad ways in which these leading software providers have offered exceptional desktop and mobile gaming experiences over the years. The first is through providing innovative features directly related to the games. Card based table games usually provide low payout ratios as compared to online pokies. In order to enhance the payout value of these casino games, the software providers introduce side bets and progressive jackpots in them. The second aspect of online gaming is the ambience in which the games are played. Dealer voices were introduced by these software providers to give an effect of real casino gambling. This effort reached its logical conclusion in live dealer casinos.
Microgaming, Playtech and NetEnt are aware of and respect the individuality of the player. Each player likes to play in a different manner. Some players want to play at faster speeds. Some players do not want game audio and prefer their own favourite music while playing. These software providers will give you such options and more.