Banking Guide for Australian Online Gambling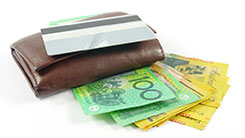 After the games, banking is the most important function at online casinos. You are giving your funds to the online casino and will want to withdraw your winnings. You must fully understand and be aware of the different terms and conditions imposed and the processes involved so that there are no undue delays in the deposits and withdrawals. It makes a lot of sense to go through the banking pages at the online casino web site before making a deposit and seek clarifications from the customer support. In this listing page we highlight general issues of importance pointing out the issues that you need to be aware of.
Looking at the importance of the subject we have separate pages on each of the common payment options used by Australian online casino players. There we discuss how to use each option and also their advantages and disadvantages. We suggest that you carefully consider the pros and cons before deciding on a payment option. No one payment option is inherently better than another. You have to be clear about your requirements and take a call based on those. If you are already using one payment option for other online transactions it makes sense to go with that option unless there are compelling reasons to the contrary.
Australian Banking Method Guides
Casino Banking Option FAQ
As an Australian player is it easy for me to make deposits and withdrawals at online casinos?
First of all, we would like to clarify that it is not illegal for you to make deposits and withdrawals at Australian online casinos. There is no law or regulation that prevents you, so you need not have any concerns in that regard.
You do need to have some facility to make payments online. You cannot post a check to the online casino office and expect them to cash it. The online casinos operate from offshore destinations and online transacting is the only way to go. You can pick any of the payment options recommended by us and you will find that the deposits and withdrawals are smooth sailing.
Rest assured that sending and receiving funds online is absolutely safe. All our recommended online casinos employ the same encryption security protocols that commercial banks use, so there is no chance of your funds being hijacked online. Any information you give to the online casino about your credit card or bank account is also stored safely.
What are some of the best options for depositing as an Australian player?
The most popular deposit options at Australian online casinos are electronic wallets and credit cards. This is followed by an Australian bank transfer option called POLi. These are briefly discussed here.
The biggest advantage of electronic wallets is that they can be used for deposits and withdrawals at all Australian online casinos. So you register for one electronic wallet and you are sorted for all your online gambling. The electronic wallets to go for are NETELLER or Skrill. These are by far the best in the business and we would not recommend any other.
All Australian online casinos accept deposits through Visa and MasterCard credit cards. But some of them do not accept the cards for withdrawals. If you already hold one of these cards and want to register it as a payment option, first reconfirm with customer support that withdrawals are allowed to that card. Otherwise you might end up getting your winnings by check.
What are some of the best options for withdrawing funds as an Australian player?
The best options for withdrawing funds as an Australian player are the Skrill and NETELLER electronic wallets. They can be used for both deposits and withdrawals at all Australian online casinos. At almost all Australian online casinos the transactions are free at both the online casino end and the electronic wallet end. The withdrawals are instantaneous once the online casino has processed your request. The money is credited to your electronic wallet immediately and you can check the account as soon as the withdrawal is made to confirm the receipt.
Even if withdrawals are permitted to your credit card at an online casino, the amount takes a few days to reflect in your account. This is because some processing is involved at the credit card end. If this delay is not material for you and you already use a credit card then it makes sense to go with it.
Why are POLi, Skrill and NETELLER among the most popular banking methods for Australian players?
Some of the reasons for the popularity of Skrill and NETELLER have already been stated, but are being repeated here for completeness. These electronic wallets allow both deposits and withdrawals at all Australian online casinos. The transactions are free and instantaneous. There is another advantage for the Australian player who wagers at many online casinos. If such a player opts for a credit card payment option then his card will be registered at the servers of all the online casinos. Instead it makes sense to load an electronic wallet with the credit card and then transfer funds to various online casinos from there.
POLi is an Australian option that requires no credit card, electronic wallet or any form of registration anywhere. It is a connector between your bank and online casino. Your bank does not know where the funds are going and the online casino will never have your bank details.
Tips about online casino banking
In this section we explain the issues that you need to be careful about while making deposits and withdrawals at online casinos.
You need to select the deposit amount after due consideration. Smaller amounts will require more frequent deposit transactions and larger deposits will mean that more funds will remain idle at the online casino. Many online casinos require that you wager the deposited funds at least once. You have to look at your needs and strike a balance. Ideally go for one or two deposits a month.
Do not make deposit or withdrawal transactions from computers or mobile devices belonging to others or at cyber cafes. In fact you should even avoid wagering from devices that are not your own. Though risks are minimal, there are risks of sensitive information being compromised and it is better to be safe than sorry.
If you are planning to claim a bonus or some other promotional benefit then do not forget to enter the promotion code while making the deposit. If you fail to do so you will definitely not get the benefit on that deposit and it may even be lost completely depending on the terms of the offer.
At the time of registration online casinos ask you for proofs of identity and address. They allow you to make deposits and start wagering immediately but will withhold your withdrawals till these documents have been received and verified. It does not make sense to delay sending these documents and risk your withdrawal request being rejected.
The amount that you specify in your withdrawal request is usually subject to quite a few constraints. The obvious one is that you must have that much clear balance in your account that is not tied up with wagering requirements. Usually all online casinos will display the clear balance and the bonus balance separately. Then the amount has to be within the minimum and maximum withdrawal limits for that transaction. Sometimes online casinos may specify maximum withdrawal limits for a week or a month so you should keep that in mind as well.
When you make a withdrawal request you should note down the date time and amount. If any transaction identification code has been given, then that should be noted as well. Normally these details would be in the system but there is no harm in being additionally safe. You need to have these details to follow up in case the request in not processed in the stipulated time.