Casino Games Guide - Learn About Online Pokies, Blackjack, Roulette & More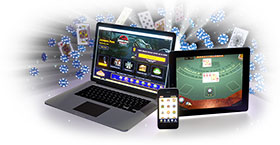 In the context of online casino gambling, casino games are those in which you play against the house. If you win the house pays you and if you lose the house takes your bet. You do not wager with other players as you do in poker cash games. Online tournaments are an exception. All participants pay an entry fee and the winners share the prize pool.
All online casino games require luck. You cannot master skill in a way that you are assured of winning. There are some games that require only luck such as online pokies and others in which skill can increase your expected returns such as blackjack.
Online Casino Games FAQ
What types of online casino games are available?
Casino games are usually classified into the four broad categories that are briefly discussed below. Different software providers may use different nomenclature and sub-classify casino games differently.
Online pokies are the most popular of casino games and constitute about 75% of the portfolio. Most played amongst them are the five reels video pokies with features like free spins and bonus games on the second screen.
Table games are those games that would usually be played on tables at land casinos. These include roulette and craps and a number of card games which include blackjack, baccarat and casino poker variants.
Video poker games are played with cards and are based on poker hand rankings but are classified separately because in land casinos they are played on consoles without dealers or croupiers.
Others games include online casino games that cannot be classified in the above categories and include keno, scratch cards and arcade games.
Why online pokies are some of the most popular casino games?
The most important reason for online pokies to be the most popular of the casino games is that they have the potential for much larger payouts than other games. There are some progressive jackpot pokies that routinely pay in millions of dollars when hit. Notwithstanding these there are many online pokies that pay 5,000 to 10,000 times the line bet as the top payouts. The only other game that offers higher payout ratios for top payouts is keno, but the average return for keno is much lower.
The other reason for the popularity of online pokies is their visual appeal. The symbols and graphics in pokies are built around different themes and the audio visual win animations are often delightful. The latest trend is to develop branded pokies based on popular movies or television serials that use content from the original. The popularity of the brand rubs off on the online pokie.
What casino software providers have the best casino games?
Microgaming, Playtech and NetEnt offer the best online casino games. They are among the oldest and most reputed in the business. Some of the reasons why they stand out are discussed below.
These software providers introduce more new games every year than other software providers. This gives the players something different to play on a continuous basis. When there are more frequent new games releases, the innovations come at a faster pace. The new online pokies offer something different in the reel structure or bonus features or the theme. These software providers also innovate in other popular games categories like roulette, blackjack and video poker with side bets, multi-hand play and more.
These software providers also build in more options into their game play. Players can customize parameters like game speed and audio options. There are facilities like auto play, particularly in online pokies, that allow players to run the online casino games without manual intervention between each spin or deal.
What type of payout percentages can I expect with online casino games?
In baccarat the Banker and the Player bets offer about 99% average returns. The tie bet and other side bets offer much lower returns.
Online blackjack variants and video poker variants as a whole also broadly offer about 99% average returns. There will be minor variations between the individual games. Both these games categories do require a fair extent of skill and it is most important to note that these average returns assume that players are wagering using optimum strategy. In reality many players do not follow the best strategy and experience lower returns.
Roulette is one casino game where it is possible to calculate payout percentages using high school mathematics. Since roulette variants are entirely luck based there is little difference between expected and actual average returns. European Roulette offers 97% average return, whereas American Roulette offers just less than 95%.
Online Pokies offers average return in the 94% to 96% band. These payout percentages are usually indicated by the software provider.
Basic information about online casino games
Pokies
Classic pokies have 3 reels and video pokies have 5 reels. There are a number of defined paylines running across these reels. When the reels stop spinning if there are a number of like symbols on the paylines you received a payout as specified in the payout table. Otherwise you lose your bet.
Blackjack
In online blackjack you have to strive to get a hand that is closer to a value of 21 than the dealer's hand. If you succeed in doing so then you win. If your hand value exceeds 21 in this endeavour then you immediately lose. The skill lies in when to ask for another card to your hand and when to stop.
Video Poker
In video poker you are dealt five cards up front. You can replace as many of these cards as you want with new ones. The objective is to try and get the highest possible poker hand. A payout table defines which poker hands pay out and how much. The skill lies in deciding which cards to replace. Different online video poker variants are played with different payout tables.
Roulette
The roulette layout consists of numbers from 1 to 36 and 0 in European Roulette. American Roulette has 00 in addition. You can bet on a single number or on a combination of numbers. The fewer the numbers in the combination, the larger is the payout. The number is selected through the spin of a wheel. If your combination covers it then you receive a payout.
Baccarat
In Baccarat the dealer plays out two hands, the Banker hand and the Player hand, according to predetermined rules. You have to bet on which hand will win. If your chosen hand wins then you receive a payout otherwise your bet loses. Baccarat games offer side bets that are generally not worth wagering on.
Craps
In craps the outcome is determined by the total of the numbers when two dice are rolled. There are many different types of bets possible. You have to be very careful because a large number of these bets offer very low percentage payouts.
Keno
In keno you start with a ticket having numbers from 1 to 80. You can mark up to 15 numbers from these. Then 20 numbers from 1 to 80 are drawn at random. You get paid based on how many of your chosen numbers match with the drawn numbers.